phillips66gasforlife.com – ConocoPhillips Gas For Life
Enter at phillips66gasforlife.com for a chance to win Gas For Life, Gas For A Year or 1 of 6,000 $20 Phillips 66 Gift Cards !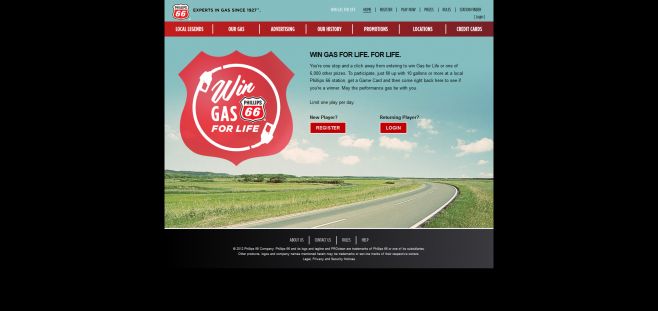 Eligibility : Open to legal U.S. residents of Arkansas, Arizona, California, Colorado, Iowa, Idaho, Illinois, Indiana, Kansas, Kentucky, Michigan, Minnesota, Missouri, Montana, Nebraska (NE residents must be 19 years of age or older), New Mexico, Nevada, Oklahoma, Oregon, South Dakota, Tennessee, Texas, Washington, Wisconsin, and Wyoming who are at least 18 years of age or older at the time of entry.
Promotion Period : Begins at 12:00:01 a.m. Eastern time June 1, 2012, and ends at 11:59:59 p.m. Eastern time August 15, 2012.
Enter at: Phillips66GasForLife.com
Limit : Entries into the GFL/KickBack Promotion are each limited to one per day, per person, per e-mail account.
Prize (s) :
GFL SWEEPSTAKES INSTANT WIN PRIZES: The instant win prizes are:
Level 1 – Gas For Life – Not more than one (1) prize valued at $130,000 (based on $50 per week for 50 years) in the form of a cash annuity paid in equal annual installments of $2,600 per year, without interest.
Level 2 – Not more than twenty-four (24) prizes of Gas For A Year, each valued at $2,600, paid in the form of a Phillips 66, Conoco or 76 gift card.
Level 3 – Not more than six thousand (6,000) prizes, each valued at $20 and paid in the form of a Phillips 66, Conoco or 76 gift card.
Winners : For names of winners, send a self-addressed, stamped envelope to be received by September 15, 2012, to: Phillips 66 Company Gas For Life, Attn.: Winners List, P.O. Box 7200, Bartlesville, OK 74005. The winners list will also be available at Phillips66GasForLife.com after Sept. 30, 2012.
Tags: ConocoPhillips Gas For Life, Phillips66GasForLife.com, www.phillips66gasforlife.com
Leave a Comment