Team Up For Gold: Unlock Golden Prizes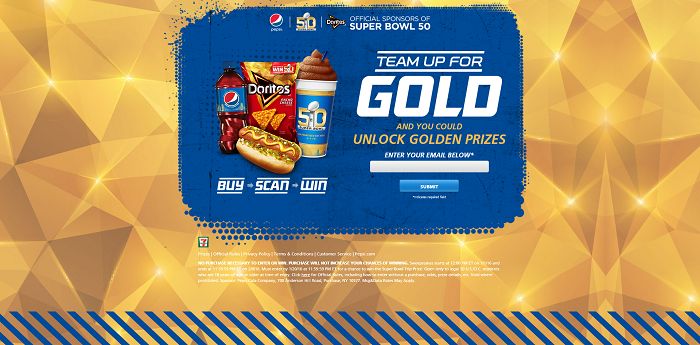 Official sponsors of Super Bowl 50 Pepsi and Doritos are teaming up with convenience store 7-ELEVEN to bring you "Team Up For Gold", a promotion running in-store and online at teamupforgold.com where you can unlock golden prizes between January 1st and February 8th, 2016.
Grab any Pepsi or Doritos product at 7-Eleven, scan the product using the App and you could win BIG.
Buy. Scan.Win. It's that easy!
Obtain A Team Up For Gold Code In-Store Or Online At TeamUpForGold.com
This Promotion requires you to obtain a combo code prior to playing the Instant Win Game. Here's how to get your game code:
Visit your local 7-Eleven store.
Purchase a Golden Combo consisting of at least one participating Pepsi or Doritos product AND any size Pepsi, Doritos, any size Pepsi Slurpee or grill item.
Either scan the products using the 7-Eleven app or upload your receipt at TeamUpForGold.com.
Once you submitted your Golden Combo purchase as instructed above, an (8) eight-digit alpha numeric entry code will be emailed to you within approximately 24 to 48 hours.
Editor's Advice: Make your purchase between 2:00:00 p.m. ET and 6:00:00 p.m. ET to receive a code valid for two (2) Game Plays. Alternatively, you may also request a free code, good for two (2) Game Plays as well.
Play The Team Up For Gold Instant Win Game
Got your combo code? It's now time to find out if you're a winner. Head to TeamUpForGold.com and follow the instructions to enter your combo code for a chance to unlock golden prizes. Complete a Game Play to see if you're an instant prize winner.
You may play the Instant Win Game up to ten times per day throughout the Promotion Period. However, if all codes were obtained between 2:00:00 p.m. ET and 6:00:00 p.m. ET, you may play up to twenty times because each code is valid for two game plays.
Game Play is open to legal residents of the 50 United States and the District of Columbia who are eighteen years of age or older at the time of participation.
Unlock Golden Prizes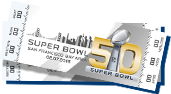 Two lucky Grand Prize Winners will receive a trip for two to Super Bowl 50 in Santa Clara, California, on Sunday, February 7, 2016. Complete with round-trip air transportation for two; hotel accommodations for four nights between February 4 – 8, 2016; a commemorative gift bag; and $200 spending cash. Please note that you must enter by January 20, 2016 at 11:59:59 pm ET for a chance to win the Super Bowl trip prize.
Pepsi and Doritos will also award over 1,000 Golden Prizes as follows:
A limited edition gold-plated Doritos chip replica (1,000 winners)
A commemorative football from the NFL (100 winners)
A football autographed by a former NFL player (12 winners)
A replica commemorative Super Bowl 50 gold and silver plated coin (100 winners)
A total of $55,200 worth of prizes is up for grabs in the Team Up For Gold. Do you have your combo code?
Tags: Team Up For Gold, teamupforgold.com
Leave a Comment