The 2017 Chrysler Pacifica & The Secret Life Of Pets Sweepstakes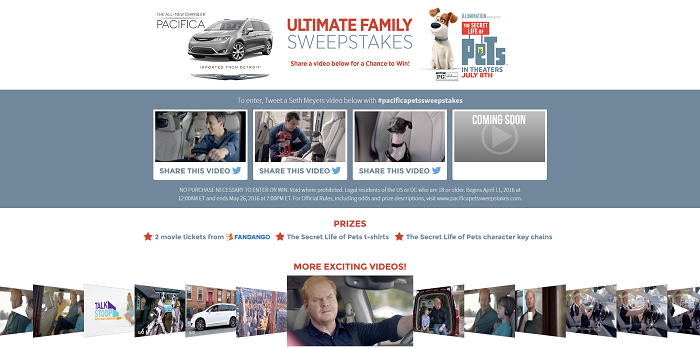 The all-new 2017 Chrysler Pacifica and The Secret Life Of Pets movie, in theaters July 8th, are teaming up to give fans the chance to win fun prizes in the Pacifica Pets Sweepstakes. For your chance to win, tweet or retweet with the hashtag #PacificaPetsSweepstakes or share a video available at PacificaPetsSweepstakes.com.
A total of 350 winners will receive either a pair of movie tickets to see The Secret Life Of Pets or a The Secret Life of Pets merchandise prize pack containing a t-shirt and a character key-chain.
Participate daily from now through May 26th for more chances to win!
When Is The 2017 Chrysler Pacifica & The Secret Life Of Pets Sweepstakes
The #PacificaPetsSweepstakes started back on April 11, 2016 and will run until May 26, 2016 at 7:00 PM ET. The Sweepstakes consist of 7 Weekly Entry Periods, as listed below.Drawing").
Between 4/11/16 and 4/15/16.
Between 4/18/16 and 4/22/16.
Between 4/25/16 and 4/29/16.
Between 5/2/16 and 5/6/16.
Between 5/9/16 and 5/13/16.
Between 5/16/16 and 5/20/16.
Between 5/23/16 and 5/26/16.
Participants are allowed to enter once per day throughout the Sweepstakes Period, for a maximum of 34 total entries.
Retweet With #PacificaPetsSweepstakes To Win
For your chance to win, look for the #PacificaPetsSweepstakes promotional tweets during the Sweepstakes Period on the following Twitter handles: @NBC, @Eonline, @USA_Network, @Syfy, @LateNightSeth, @BravoTV, @EsquireNetwork, @Enews, @Fandango, @Chrysler, and @SproutChannel.
Each promotional tweet is different and will be posted within 24 hours of each Weekly Entry Period Start Time. Each promotional tweet includes the hashtag #PacificaPetsSweepstakes, as displayed below:
Once you spotted one of these tweets, retweet it to be entered into the Sweepstakes. Alternatively, you can share your own tweet using #PacificaPetsSweepstakes and share one of the custom videos available online at PacificaPetsSweepstakes.com.
Sweepstakes Winners
At the end of each Weekly Entry Period, a total of 50 potential winners will be randomly selected from all eligible Entries received. Each winner will be notified via direct message or tweet on Twitter.
A complete list of winners' names can be obtained between May 26 and July 26, 2016. To request the list, sending a self-addressed, stamped envelope to: The Ultimate Family
Sweepstakes NBCUniversal, 30 Rockefeller Plaza, Rm 1221 Attn: NBCUniversal Content Innovation Agency.
Eligibility
Only residents of the 50 United States and the District of Columbia are eligible to enter the 2017 Chrysler Pacifica & The Secret Life Of Pets Sweepstakes. Entrants must be 18 years of age or older to win. Void in Puerto Rico, Guam, the U.S. Virgin Islands and other United States territories.
For complete details, including Official Rules, visit www.pacificapetssweepstakes.com.
Tags: Pacifica Pets Sweepstakes, www.pacificapetssweepstakes.com
Comments (1 Message)
Leave a Comment