JudgeMathisTV.com/Creed – Judge Mathis' Leave A Legacy Sweepstakes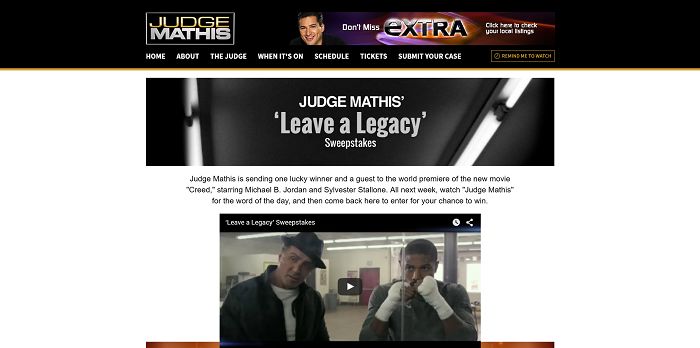 All this week, Judge Mathis and Creed are delivering a knockout! Starting on October 26, win a VIP trip for two (2) to Hollywood for the Star-Studded Premiere of Creed, plus cool Judge Mathis prizes! Watch Judge Mathis every day for the "Word Of The Day" then enter at JudgeMathisTV.com for your chance to win!
Watch Judge Mathis To Win
Between October 26 and October 30, tune in to Judge Mathis and look for the "Word Of The Day" that will be revealed during the show. Then, go online to JudgeMathisTV.com and register for the Sweepstakes by providing all required information, including the correct word for that day to be automatically entered into the Leave A Legacy Sweepstakes.
Each day during the Promotion Period, a new Daily Prize Winner will be randomly selected and will receive a Judge Mathis/Creed Prize Package containing the following prizes:
One (1) "Creed" t-shirt
One (1) "Creed" hoodie
One (1) "Judge Mathis" t-shirt
One (1) "Judge Mathis" tumbler
At the end of the week, one lucky Grand Prize Winner, selected during a random drawing from among all entries received, will get a 3-day/2-night stay for two (2) in Los Angeles, CA including airfare, hotel accommodations and two (2) tickets to the premiere screening of the Metro-Goldwyn-Mayer and Warner Bros. Pictures film "Creed".
Participation into the Judge Mathis' Leave A Legacy Sweepstakes is open to legal residents of the fifty (50) United States and the District of Columbia who are eighteen (18) years of age or older or the age of majority in their state of residence on the date of entry, whichever is older. Please note that residents of Chicago, IL; Detroi, MI; Los Angeles, CA; New York, NY; and Philadelphia, PA are ineligible for the Sweepstakes. Residents of these areas may instead enter a separate, geographically specific Sweepstakes for an identical prize, except for Los Angeles which does not include travel.
Judge Mathis Word Of The Day
Missed a Word Of The Day or simply can't watch Judge Mathis on weekdays? Don't panic! Be sure to come back here every day through Friday, October 30th to find the daily word below:
October 26: Respect
October 27:

Justice

October 28: Fighter
October 29: Punch
October 30:
More About Creed
CREED, a new chapter in the "Rocky" story starring Michael B. Jordan (as the son of Appollo Creed) and Sylvester Stallone (Rocky), opens in theaters everywhere on Wednesday, November 25.
Adonis Johnson (Jordan) never knew his famous father, world heavyweight champion Apollo Creed, who died before he was born.  Still, there's no denying that boxing is in his blood, so Adonis heads to Philadelphia, the site of Apollo Creed's legendary match with a tough upstart named Rocky Balboa.
Once in the City of Brotherly Love, Adonis tracks Rocky (Stallone) down and asks him to be his trainer.  Despite his insistence that he is out of the fight game for good, Rocky sees in Adonis the strength and determination he had known in Apollo—the fierce rival who became his closest friend.  Agreeing to take him on, Rocky trains the young fighter, even as the former champ is battling an opponent more deadly than any he faced in the ring.
With Rocky in his corner, it isn't long before Adonis gets his own shot at the title… but can he develop not only the drive but also the heart of a true fighter, in time to get into the ring?
Watch Creed – Official Trailer #2 [HD] below:
Tags: Judge Mathis' Leave A Legacy Sweepstakes, judgemathistv.com/creed
Leave a Comment