hhgregg Black Friday On Us Sweepstakes (hhgregg.com/on-us)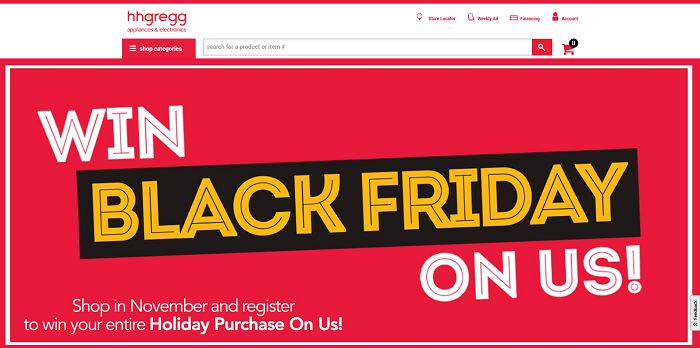 Black Friday is fast approaching which means you'll probably spend a lot of money on this very special shopping day. While BHG is already offering you the chance to win $10,000 to shop on Black Friday 2015, hhgregg is now giving you the chance to win your entire Holiday & Black Friday Purchase on them! Imagine hhgregg picking up the bill for your holiday shopping. It could happen!
Two lucky winners will get their entire holiday and Black Friday purchase on hhgregg! Plus, other great prizes will be given out 5 times per week including hhgregg gift cards worth up to $500.
Shop To Win
All this month, including Black Friday on November 27, shop in-store or online at hhgregg.com/black-friday then register for Sweepstakes by completing the entry form, available online at hhgregg.com/on-us, using your computer or mobile device for your chance to win. You may also participate by visiting the hhgregg Facebook page.
Each valid registration will result in one (1) Entry into the applicable Daily Entry Period (weekdays only) and one (1) Entry into the Grand Prize Drawing. Please note that you may participate up to three (3) times per day, one for each method of entry (online using your computer, online using your mobile device, online via Facebook).
Participation into the hhgregg Black Friday On Us Sweepstakes is offered and open only to legal residents of the fifty (50) United States and District of Columbia who are 18 years of age or older at the time of entry.
hhgregg Promo Code
Want more chance to win? Follow @hhgregg on Twitter and/or Instagram and take note of the Promo Code that will be revealed every Monday in November on the two social media platforms. Enter this code when you register to receive one (1) Bonus Entry. You can also find a complete list of all Black Friday On Us Promo Codes below:
You may earn up to five (5) Bonus Entries, one (1) per Promo Code, during the entire Sweepstakes Period.
Sweepstakes Prizes
Each weekday during the Promotion Period, hhgregg will award one (1) gift card, as detailed below:
Mondays: A $500 hhgregg Gift Card
Tuesdays: A $10 hhgregg Gift Card
Wednesdays: A $25 hhgregg Gift Card
Thursdays: A $30 hhgregg Gift Card
Fridays: A $500 hhgregg Gift Card
At the end of the Promotion, hhgregg will pick up two (2) Grand Prize's shopping bills. The two winners will receive a refund in the amount of their purchase completed during the Promotion Period.
Be sure to shop Black Friday Deals all November long at hhgregg for your chance to win!
Tags: Black Friday Sweepstakes, hhgregg Black Friday On Us Sweepstakes, hhgregg Sweepstakes, hhgregg.com/black-friday, hhgregg.com/on-us
Leave a Comment