Corona Fill Your Summer Sweepstakes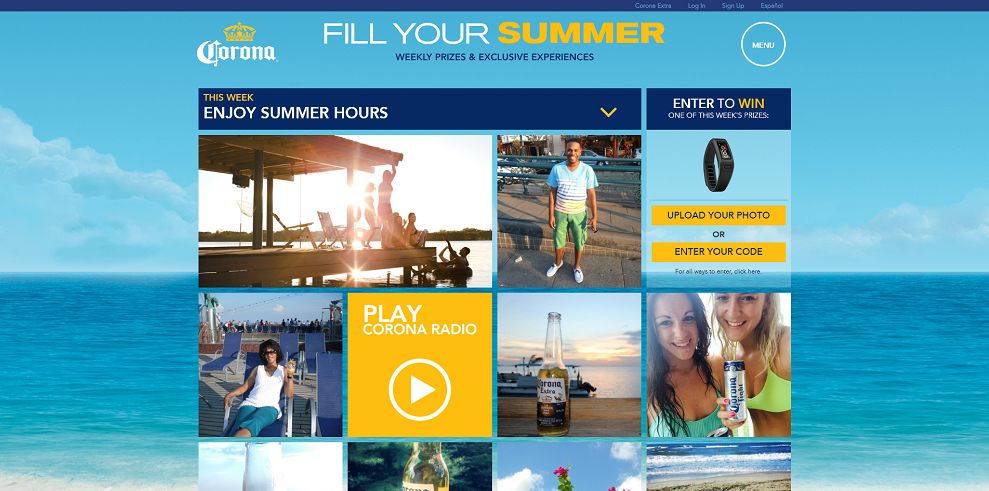 Eligibility : Open only to residents of the 50 United States and Washington, DC, who are 21 years of age or older at time of entry.
Promotion Period : Beginning 12:00:01 AM (ET) on 5/6/14 through 11:59:59 PM (ET) on 9/8/14.
Enter Online At : CoronaSummer.com
Enter By Mail : On a plain piece of 3″ x 5″ paper, sign your name to certify that you are over 21 years of age, and also hand print your complete name, address (no P.O. Boxes), city, state, zip code, date of birth (mm/dd/yyyy), plus (optional) daytime and evening telephone numbers. Mail your entry in an envelope no larger than a #10 (business-size) envelope, with first class postage affixed, to: Corona "Fill Your Summer" Sweepstakes, P.O. Box 5613, Blair, NE 68008-5613. Limit one mailed entry per outer mailing envelope. No mechanically reproduced entries permitted.
Limit : Limit one Package Code entry and one Text Message Code entry per email address per day.  Limit one uploaded photo entry per email address per day.
Prize (s) :
CORONA COOLER DISCOUNT:
Visit CoronaMerch.com and enter the promo code "COOLER20" at checkout to receive a $20 discount.
Weekly Prize Themes
Weekly Prize Themes Start @ 12:00:00 AM (ET) (unless otherwise specified)
Online Entry Deadlines @ 11:59:59 PM (ET)
Mailed Entry Deadlines
Random Drawing Dates (on/about)
Available Weekly Prizes and Approx. Retail Values
"Get Out and Play"
12:00:01 AM (ET), 5/6/14
5/12/14
5/20/14
5/23/14
(50) Prizes of a Hero3 GoPro® camera ($285 ea.)
"Fire Up Your Grill"
5/13/14
5/19/14
5/28/14
5/30/14
(25) Prizes of a Weber® Spirit® Gas Grill ($470 ea.)

(40) Prizes of a GrillMaster® Utensil Pack ($65 ea.)

"Keep Your Cool"
5/20/14
5/26/14
6/3/14
6/6/14
(50) Prizes of a Stainless Steel Corona Cooler ($95 ea.)
"Enjoy Summer Hours"
5/27/14
6/2/14
6/10/14
6/13/14
(50) Prizes of a Garmin vívofit™ Black Watch ($139 ea.)
"Summer in Style"
6/3/14
6/9/14
6/17/14
6/20/14
2) Grand Prizes of a "NYC Shopping Trip for 2" awarded in the form of a $3,000 Sports Travel and Tours Gift Certificate PLUS a $1,000 American Express® Gift Card ($4,000 per prize)

(25) Prizes of a $400 American Express® Gift Card

"Find Your Summer Bar"
6/10/14
6/16/14
6/24/14
6/27/14
(60) Prizes of a Corona Neon Sign ($238 ea.)
"Feel the Beat"
6/17/14
6/23/14
7/1/14
7/7/14
(35) Prizes of Beats™ by Dr. Dre™ Solo On-Ear Headphones ($210 per prize)

(50) Prizes of a JAMBOX® by Jawbone ($295 ea.)

"Spark Something Fun"
6/24/14
6/30/14
7/9/14
7/11/14
(50) Prizes of a Patina Outdoor Fire Pit ($225 ea.)
"Play in the Sand"
7/1/14
7/7/14
7/15/14
7/18/14
(2) Grand Prizes of a "Beach Getaway Trip for 2" awarded in the form of a $5,000 Sports Travel and Tours Gift Certificate

(20) Prizes of a Portable Volleyball Set ($558 ea.)

"Catch a Game"
7/8/14
7/14/14
7/22/14
7/25/14
(2) Grand Prizes of a "Sports Experience Trip for 2" awarded in the form of a $3,000 Sports Travel and Tours Gift Certificate

(25) Prizes of a $200 StubHub!® Gift Card

"Make a Splash"
7/15/14
7/21/14
7/29/14
8/1/14
(10) Prizes of an Inflatable Whirlpool® Portable Spa ($800 ea.)

(40) Prizes of a Floating Cooler ($79 ea.)

"Take it Easy"
7/22/14
7/28/14
8/5/14
8/8/14
(65) Prizes of a Smart Garden Hammock with Metal Stand ($145 per prize)
"Experience Live Music"
7/29/14
8/4/14
8/12/14
8/15/14
(2) Grand Prizes of a "Music Trip for 2" awarded in the form of a $3,000 Sports Travel and Tours Gift Certificate

(25) Prizes of a $250 Ticketmaster® Gift Certificate

"Stay Up Late"
8/5/14
8/11/14
8/19/14
8/22/14
(2) Grand Prizes of a "Vegas Trip for 2" awarded in the form of a $4,000 Sports Travel and Tours Gift Certificate

(25) Prizes of a $100 Fandango® Cinema Gift Card

"Party with a View"
8/12/14
8/18/14
8/26/14
8/29/14
(50) Prizes of a MINI JAMBOX® by Jawbone ($179 ea.)

(40) Prizes of a Pair of Ray-Ban® Sunglasses ($155 per prize)

"Eat Under the Sun"
8/19/14
8/25/14
9/3/14
9/5/14
(50) Prizes of a Weber® Q® 1000™ Gas Grill ($159 ea.)
"Get Away With Friends"
8/26/14
9/1/14
9/9/14
9/12/14
(20) Prizes of a Eureka!® Tent (sleeps 2?3 people) ($439 ea.)

(15) Prizes of a Spinner Upright Suitcase ($155 ea.)

"Keep Summer Going"
9/2/14
9/8/14
9/16/14
9/19/14
(25) Prizes of a "Corona Store Shopping Spree" awarded in the form of a $250 Corona Store gift card
Tags: COOLER20, Corona Fill Your Summer Sweepstakes, CoronaSummer.com, summer.coronaextrausa.com
Leave a Comment