BTFE.com/BigMoney – Box Tops For Education Big Money Sweepstakes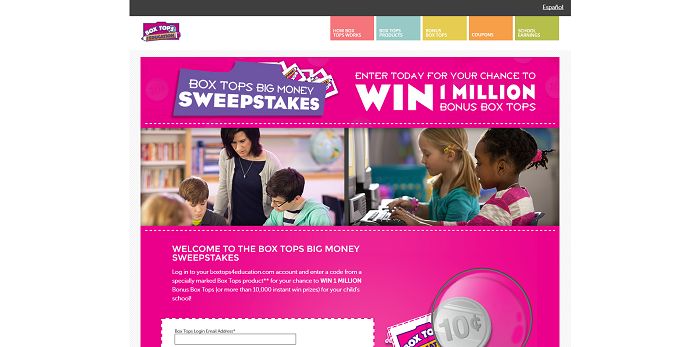 Look for specially marked packages of your favorite Box Tops For Education products at your local retailer then enter the code found on your package at BTFE.com/BigMoney for your chance to win 1 million Bonus Box Tops!
Obtain A Code

In order to participate, you'll need to obtain a code. You may obtain a code using one of the following three methods:
With Purchase: Purchase a participating General Mills product and look for the the on-pack Code.
By Mail (Without Purchase): Hand print your information including your full name, complete mailing address, phone number(s), email address, and age on a 3″ x 5″ piece of paper then mail it with proper postage to "BTFE Big Money Sweepstakes," P.O. Box 5046, Department: 813808, Kalamazoo, MI 49003-5046. You will receive an email that will contain your Code from BoxTopsforEducation@epiinc.com within forty-eight (48) hours of receiving your request. Please note you may use this method between October 15, 2014 and December 5, 2015 only.
By Email (Without Purchase): Send an email to BoxTopsforEducation@epiinc.com and wait for a reply message including your code. Please note you may use this method between December 6, 2015 and December 15, 2015 only.
Here's How To Enter Your Codes
During the Promotion Period, visit BTFE.com/BigMoney and fill out the registration form including your Box Tops email address/password and your Code to receive one (1) Sweepstakes Entry for that day. Upon completing the registration form, you will be invited to play the instant win game to see if you're an instant winner.
Runs from October 15, 2014 to December 15, 2015 at 11:59 p.m. ET. You are eligible to enter and win the Box Tops For Education Big Money Sweepstakes only if you are a legal resident of any of the fifty (50) United States (including District of Columbia), who are at least eighteen (18) years old at the time of entry. Limited to one (1) Sweepstakes Entry and one (1) Game Play per day throughout the Promotion Period. Each code may be used once per day.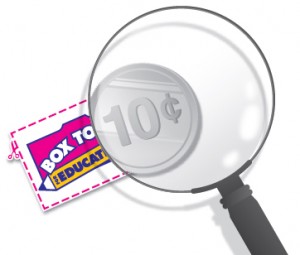 Prizing Details
One (1) Grand Prize Winner will get one million (1,000,000) eBoxTops for their BTFE-Eligible School. Plus, a total of 10,415 instant win prizes will be awarded during the Promotion Period, as detailed below:
Ten thousand (10,000) eBoxTops for a BTFE-Eligible School. (5 winners)
One thousand (1,000) eBoxTops for a BTFE-Eligible School. (10 winners)
One hundred (100) eBoxTops for a BTFE-Eligible School. (400 winners)
Five (5) eBoxTop for a BTFE-Eligible School. (10,000 winners)
Tags: Box Tops For Education Sweepstakes, BTFE.com/BigMoney
Leave a Comment