Brides Save The Date Sweepstakes: Choose. Snap. Upload. Tag.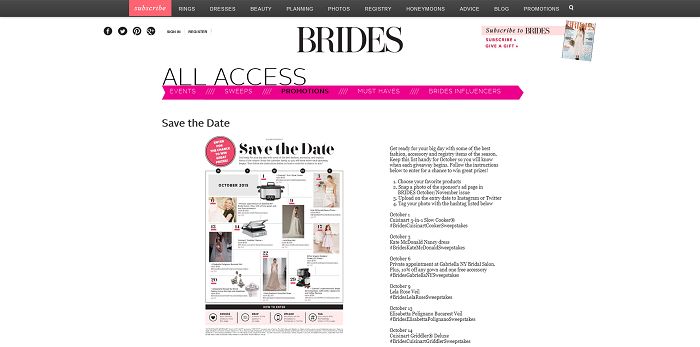 Calling all brides! If you haven't picked up a copy of the Brides October/November 2015 issue yet, hurry up because you could win some of the best fashion, accessory and registry items of the season! All this month, you're invited to snap a picture of the sponsor's ad page and share it on Twitter or Instagram for a chance to win the prizes featured on the page!
Choose. Snap. Upload. Tag.
During the month of October, BRIDES Magazine will running a "10 days of giveaways" in the Brides Save The Date Sweepstakes. The 10 days of giveaways are as follow: October 1; 3; 6; 9; 13; 14; 17; 20; 22; and 29.
To enter, follow @BridesAllAccess on Twitter or Instagram and complete the following steps:
Step 1: Choose your favorite product from the page.
Step 2: Snap a photo of the sponsor's ad page.
Step 3: Upload the photo on the applicable entry date to Twitter or Instagram.
Step 4: Tag your photo with the applicable hashtag.
The Entry Dates and applicable hashtags are listed below:
October 1: Cuisinart 3-in-1 Slow Cooker (#BridesCuisinartCookerSweepstakes)
October 3: Kate McDonald Nancy dress (#BridesKateMcDonaldSweepstakes)
October 6: Private appointment at Gabriella NY Bridal Salon. Plus, 10% off any gown and one free accessory (#BridesGabriellaNYSweepstakes)
October 9: Lela Rose Veil (#BridesLelaRoseSweepstakes)
October 13: Elisabetta Polignano Bucarest Veil (#BridesElisabettaPolignanoSweepstakes)
October 14: Cuisinart Griddler Deluxe (#BridesCuisinartGriddlerSweepstake)
October 17: Alfred Angelo Designer Flower Girl Dress (#BridesAlfredAngeloSweepstakes)
October 20: Alessandra Rinaudo by Nicole Fashion Group Earrings and Headdress (#BridesAlessandraRinaudoSweepstakes)
October 22: Kelly Faetanini Yona ball gown (#BridesKelliFaetaniniSweepstakes )
October 29: Cuisinart Superautomatic Single Serve Espresso, Caffé Latte, Cappuccino, and Coffee Machine (#BridesCuisinartMachineSweepstakes)
There's a limit of one (1) Sweepstakes Entry per day during the Promotion Period, regardless of method of entry. The Brides Save The Date Sweepstakes is open only to legal residents of the 50 United States and the District of Columbia, who are at least 18 years old as of the date of entry.
The Prizes
A total of ten (10) winners will receive one of the following prizes:
Cuisinart 3-in-1 Slow Cooker
Kate McDonald Nancy dress
Private appointment at Gabriella NY Bridal Salon. Plus, 10% off any gown and one free accessory
Lela Rose Veil
Elisbetta Polignano Bucareat Veil
Cuisinart Griddler Deluxe
Alfred Angelo Designer Flower Girl Dress
Alessandra Rinaudo by Nicole Fashion Group Earrings and Headdress
Kelly Faetanini Yona ball gown
Cuisinart Superautomatic Single Serve Espresso, Caffé Latte, Cappuccino, and Coffee Machine
Tags: Brides Sweepstakes
Leave a Comment