RTM iPad Giveaway (Buzzword Included)
Right This Minute, the viral videos show, just launched a new RTM iPad Giveaway at rightthisminute.com/win. All you have to do is watch Right This Minute on weekdays for the Buzzword Of The Day. But if you miss it, come back here and find out what it is the code word for today below.
The giveaway starts on April 27 and will run through May 19, 2017. This time, a total of 17 Apple iPad mini 4 with Wi-Fi are up for grabs.
Right This Minute Buzzword 2017
First Right This Minute Buzzword will be revealed on April 27, 2017 and last one will be revealed on May 19, 2017. Please note that you will be able to submit each RTM iPad Giveaway Buzzword between 5:00 a.m. Pacific Time and 5:59 a.m. Pacific Time the following day.
April 27: SUMMER
April 28: BLOCKBUSTER
May 1: MOVIE
May 2: SERIES
May 3: COMIC
May 4: BOOK
May 5: GUARDIAN
May 8: MINION
May 9: TRILOGY
May 10: KING
May 11: LEGEND
May 12: SWORD
May 15: DOWNSTREAM
May 16: WOMAN
May 17: TRANSFORMER
May 18: PIRATE
May 19: EMOJI
How To Enter The Right This Minute iPad Giveaway At RightThisMinute.com/Win
Tune in to the Right This Minute television show.
Watch for the Right This Minute Buzzword that will be revealed during the show (or get it here).
Once you obtained it, visit www.rightthisminute.com/win.
Follow the instructions to submit your entry via Facebook and/or Twitter.
Since you are allowed to enter one time via Facebook and one time via Twitter, we recommend to use both methods to earn two entries per drawing. This is the best way to earn more chances to win.
More About The RTM iPad Giveaway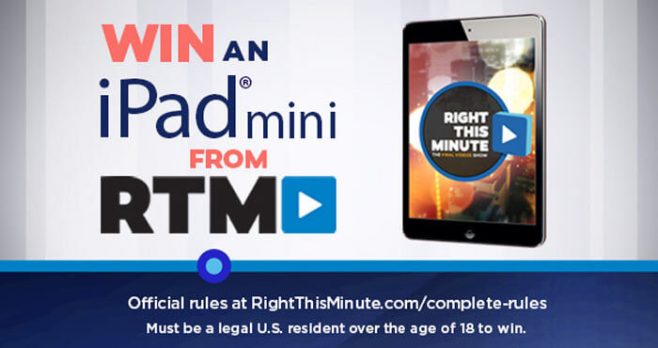 Open only to legal residents of the United States, District of Columbia, and Canada, who are 21 years of age or older as of date of entry.
Begins at 5:00 a.m. Pacific Time on Thursday, April 27, 2017 and ends at 6:59 a.m. Pacific Time on Saturday, May 19, 2017.
You may earn up to 2 daily entries per weekday drawing throughout the Promotion Period.
A complete list of winners will be available after June 15, 2017. Send a self-addressed, stamped envelope to: RightThisMinute Winners List, May 2017 iPad mini Giveaway, 9633 S 48th Street, Suite 185, Phoenix, AZ 85044 to be received by June 15, 2017.
This Giveaway is sponsored by Right This Minute.
For complete details, see the Official Rules.
Tags: Right This Minute iPad Giveaway, rightthisminute.com/win, RTM iPad Giveaway 2017, Sweepstakes Expiring May 2017
Comments (45 Messages)
Leave a Comment
New Sweepstakes Added Today