Club Tyson Scavenger Hunt Contest (ScavengerHunt2014.ClubTyson.com)
Club Tyson invites you to participate in the 4th annual Club Tyson Scavenger Hunt at ScavengerHunt2014.ClubTyson.com! The rules are simple and the prizes are awesome. Starting today, complete tasks, upload photos and win prizes like an XBOX One, a Polaroid Digital Instant Print Camera, a Kindle Fire, Sam's Club Gift Cards and more!
Here's How The Scavenger Hunt Works
The first thing to do it to visit http://scavengerhunt2014.clubtyson.com/ and sign up. You will be then provided with a list of task to complete to earn points. Tasks consist of uploading photos meeting the criteria of the specific tasks on the Club Tyson Facebook page. Complete as many tasks as you can to earn a maximum of points.
You may also check-in every day and answer the weekly trivia question to earn extra points!
Editor's Advice : Don't miss an opportunity to win by downloading the iPhone/Android app and play from your phone on the go.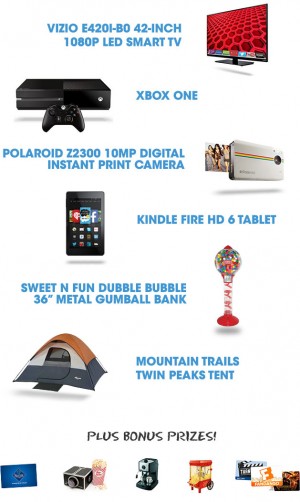 Contest Prizes
A total of 42 prizes will be awarded during the contest period as follow.
Two (2) First Place Prizes: VIZIO E420i-B1 42-Inch 1080p LED Smart TV;
Four (4) Second Place Prizes: XBOX One® game console;
Six (6) Third Place Prizes: Polaroid® Z2300 10MP Digital Instant Print Camera;
Ten (10) Fourth Place Prizes:  Kindle Fire™ HD 6 Tablet;
Ten (10) Fifth Place Prizes: Sweet N Fun® Dubble Bubble® 36 Inch Metal Gumball Bank;
Ten (10) Sixth Place Prizes: Mountain Trails® Twin Peaks Tent 36443.
Bonus Prizes
There will also be a total of six (6) Bonus Prizes awarded randomly throughout the contest period as listed below.
One (1) First Bonus Prize: De'Longhi® EC155 15 Bar Pump Espresso and Cappuccino Maker;
One (1) Second Bonus Prize: Nostalgia® Electric KPM508 Vintage Collection Kettle Popcorn Maker;
One (1) Third Bonus Prize: Two Fandango® Movie Passes;
One (1) Fourth Bonus Prize: Smartphone Projector;
One (1) Fifth Bonus Prize: Sam's Club® Gift Card;
One (1) Sixth Bonus Prize: Claw Arcade Game.
Contest Period
The Contest will run for thirty (30) days starting today, on or about 12 noon Central Time and ending at 11:59:59 pm Central Time on December 16, 2014.
Eligibility
Open to legal residents of the fifty (50) United States and the District of Columbia, who are at the age of majority in their state of residence (19 in NE and AL, 21 in MS and 18 in all other states) at the time of entry.
Tags: scavenger hunt contest, ScavengerHunt2014.ClubTyson.com
Leave a Comment