Amazon App Giveaway 2017 (Amazon.com/AppGiveaway)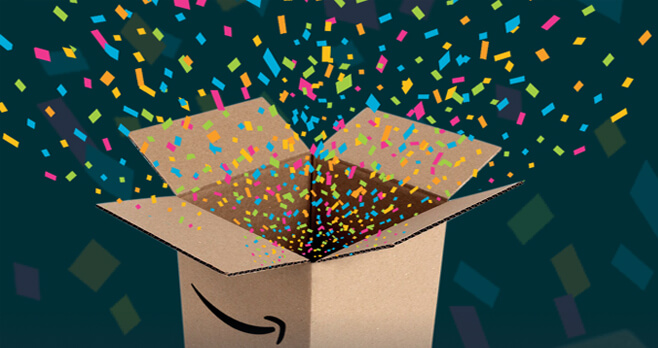 The Amazon App Giveaway 2017 is on! Visit amazon.com/appgiveaway now and download the Amazon App to get notified when special giveaways start. You could win a new prize every day including a Nintendo Switch, iPad, Xbox One X, iPhone 8, Playstation 4, and more.
Amazon Giveaway Links
Sweepstakes Entry Form
Official Rules
Amazon App Giveaway Prizes
11/21: PS4 Slim, MacBook Air
11/22: iPad Pro, Xbox One S 1TB Console
11/23: Nintendo Switch, Samsung 40-inch LED TV
11/24: Microsoft Surface Pro, Sennheiser HD 650
11/25: Acer laptop, All-new Amazon Echo
11/26: Nikon D3400, LEGO Star Wars Millennium Falcon
11/27: Holy Stone Mini RC Helicopter Drone, Dyson Cord-Free Vacuum
11/28: LEGO Star Wars X-Wing Starfighter, Yamaha Home Theater
11/29: Apple MacBook, Element 65-inch LED TV
11/30: Playstation 4 Pro, GoPro Hero6
12/1: Apple Watch Series 3, iMac, Pixel 2 XL
12/2: Apple iPhone 8, Xbox One X, MJX Bugs 2 Drone
12/3: LG 75-inch LED TV, Bose Noise Cancelling Headphones
12/4: Sony 85-inch TV, MacBook Pro, DJI Phantom 4 Pro, Xbox One X
Amazon Giveaway Rules
Who Can Enter? The Amazon App Giveaway 2017 is open to individual legal residents of the 50 United States or the District of Columbia who are the older of 18 years of age or the legal age of majority in their state of residence.
When To Enter? This giveaway started November 27, 2017 11:45 PM PST and ends the earlier of December 4, 2017 11:59 PM PST or when all prizes have been awarded..
What Are The Sweepstakes Prizes? The Grand Prize consists of a wedding ceremony and honeymoon for Winner and Winner's one significant other.
Tags: Amazon Giveaway
Leave a Comment