7Eleven Rewards Spend. Spin. WIN! Instant Win Game : Spend. Spin. Win at 7-elevenreward.com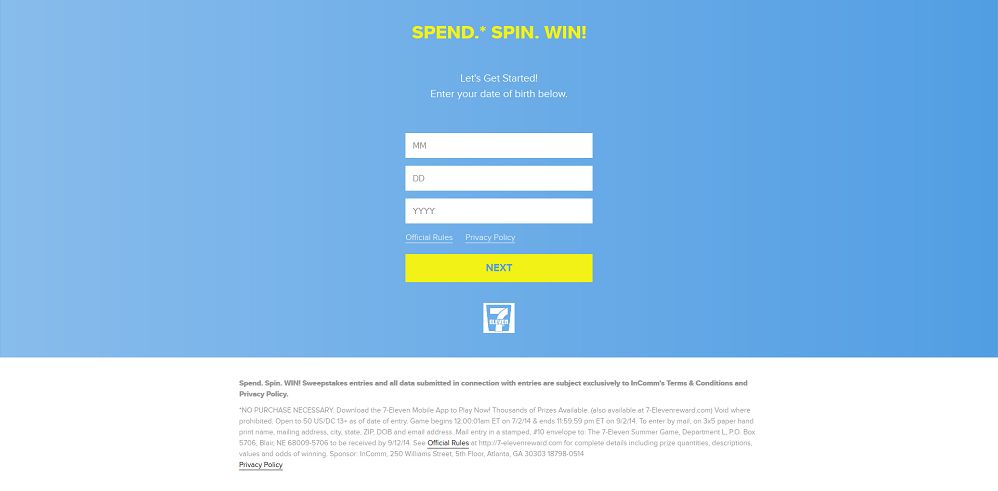 HERE'S HOW IT WORKS:
Beginning at 12:00:01 a.m. on 7/2/1, access the game by visiting 7-elevenreward.com. If you have the 7-Eleven app, go to the "Events" section and click "Spend. Spin. Win."
Follow the instructions to register and enter the PIN code from the back of your Card then follow the instructions to spin the wheel to see if you've instantly won a prize.
You may also play without purchase by hand printing your first and last name, street address (no P.O. Boxes), city, state, zip code, date of birth (mm/dd/yyyy), e-mail address and your mobile telephone number a plain piece of 3×5 paper. Mail-In Plays must be mailed in an envelope no larger than #10 (business-size envelope) with sufficient postage affixed, to: The 7-Eleven Summer Game, Department L, P.O. Box 5706, Blair, NE 68009-5706.
Each Code may be used only once and must be obtained legitimately. Limit one (1) Mail-In Play per outer-mailing envelope.
All entries must be received before 11:59:59 p.m. on 9/2/14. Mail-In Plays must be postmarked by 9/3/14 and received by 9/12/14.
Game is open only to residents of the 50 United States and the District of Columbia, 13 years of age or older as of date of participation.
PRIZES: A total of 55,073 prizes with a total approximate retail value of $121,250 will be awarded as follows:
(73) Grand Prizes
An Xbox One Console (ARV: $500 ea.).
(5,000) First Prizes:
(1,000) $5 Facebook Digital Gift Card
(4,000) $5 Microsoft Xbox Digital Gift Card
(50,000) Second Prizes:
    (5,000) a Big Bite® Original Hot Dog – ARV: $1.99 ea.
    (5,000) a Medium Hot Coffee (16 oz.) – ARV: $1.52 ea.
    (5,000) a Medium Slurpee (20 oz.) – ARV: $1.51 ea.
    (20,000) a Big Gulp® (30 oz.) – ARV: $.99 ea.
    (15,000) a Single-serve 7Select Chips (2.25 – 2.5 oz.) – ARV: $.99 ea.
Won something ? Let us know below !
Tags: 7-elevenreward.com, 7Eleven Rewards Spend. Spin. WIN! Instant Win Game
Leave a Comment