PlayMonopoly.us Game At Vons 2017
The PlayMonopoly.us Game At Vons 2017 commences on Wednesday, February 8, 2017. Are you ready? Enter Monopoly codes at PlayMonopoly.us and play Monopoly online for a chance to win $10,000 cash prizes, grocery gift cards, and more.
Plus, defy the odds by filling out the PlayMonopoly.us Game Board with all the rare pieces 2017 and you could be the winner of a $1,000,000 cash prize or other stunning prizes during the Monopoly Game at Vons. New in 2017, you have the chance win over 100 millions additional prizes.
Sweepstakes Entry Form | Sweepstakes Official Rules
PlayMonopoly.us Game At Vons 2017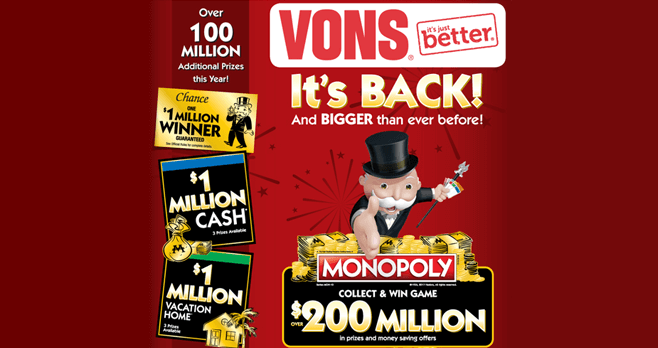 Eligibility: The PlayMonopoly.us Game At Vons 2017 is open to customers who are at least 18 years of age and are legal U.S. residents of Alaska, Arizona, Arkansas, California, Colorado, Connecticut, District of Columbia, Delaware, Hawaii, Idaho, Illinois, Indiana, Iowa, Louisiana, Maine, Maryland, Massachusetts, Montana, Nebraska, Nevada, New Hampshire, New Jersey, New Mexico, New York, North Dakota, Oregon, Pennsylvania, Rhode Island, South Dakota, Texas, Utah, Vermont, Virginia, Washington or Wyoming.
Sweepstakes Period: Begins on February 8, 2017 and ends on May 9, 2017. Online entries must be made by 11:59 p.m. PT on May 24, 2017.
Random Drawings:
Random drawings from all MONOPOLY online codes entered, and all MONOPOLY mail-in entries for each of Sponsor's 14 Divisions, (ACME, Denver, Eastern, Houston, Intermountain, Jewel-Osco, Northern California, Portland, Seattle, Shaw's, Southern, Southern California, Southwest and United) will occur on February 15, February 22, March 1, March 8, March 15, March 22, March 29, April 6, April 12, April 19, April 26, May 3, and May 10, 2017 and one winner from each division will receive a $1,000 Grocery Gift Card.
In addition, a bonus drawing will be held and one winner from each division will be selected for prizes as follows: February 22, 2017 – $5,000 Grocery Gift Card; March 7, 2017 – $10,000 Family Vacation Prize; April 26, 2017 – $20,000 College Tuition Prize; and June 2, 2017 – $40,000 Home Makeover Prize.
Random drawings for the Hawaii's Own Sweepstakes will occur on March 7 and May 31, 2017.
Random drawings for the Nickelodeon Sweepstakes will occur on March 1, April 5 and May 31, 2017.
If none of the top six prizes are claimed by May 30, 2017, ONLY THEN will a random last chance drawing from all valid MONOPOLY 2nd Chance sweepstakes entries occur on or about June 12, 2017 for one $1,000,000 Cash Prize.
Winner's List: The names (first name and last initial) and city and state of the prize winners with $600 value or greater may be obtained at the conclusion of the Promotion by sending a first class stamped, self-addressed envelope to: MONOPOLY MON-10 Game Winners, P. O. Box 813368, Smyrna, GA 30081. Requests must be received by September 30, 2017. A winner's list will also be posted online at https://www.playmonopoly.us/winners.
Sponsors: Albertsons LLC.
For complete details, including Official Rules, visit https://www.playmonopoly.us/.
Tags: playmonopoly.us, PlayMonopoly.us Game, PlayMonopoly.us Game Board, PlayMonopoly.us Rare Pieces 2017, PlayMonopoly.us Vons 2017, Popular Sweepstakes 2017, Sweepstakes Expiring May 2017
Comments (10 Messages)
Leave a Comment
SweepstakesLovers Newsletter
So many Online Sweepstakes to enter! Keep up with the SweepstakesLovers daily email.
Subscribe to our free newsletter.