Krystal's 85th Birthday with Coke Zero Sugar Instant Win Game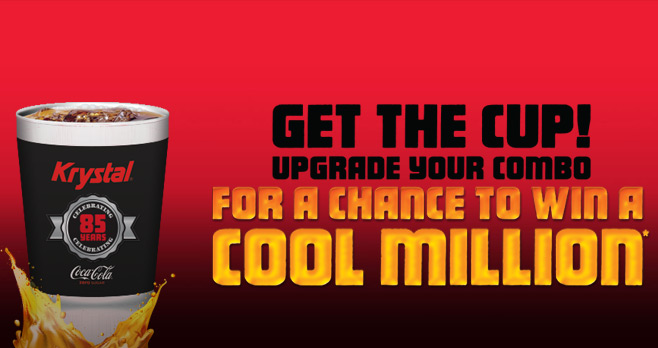 It's Krystal's 85th Birthday and Coke Zero Sugar invites you to play the Instant Win Game at www.krystal.com/85 for a chance to win $1,000,000 in cash. Grab your cup in-restaurant and find the code for a chance to win tons of great other prizes.
Links
Sweepstakes Entry Form
Official Rules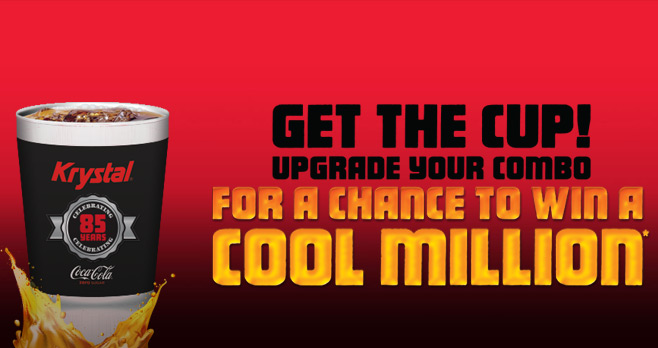 Who Can Enter

Krystal's 85th Birthday with Coke Zero Sugar Instant Win Game is open only to legal residents of Alabama, Arkansas, Florida, Georgia, Kentucky, Louisiana, Mississippi, North Carolina, South Carolina, Tennessee and Virginia who are 18 years of age or older at the time of entry.
When To Enter

The Game begins at 12:00 a.m. ET on September 25, 2017 and ends at 11:59 p.m. ET, November 12, 2017.
How To Enter
During the Promotion Period, visit a participating Krystal restaurant and purchase a 30 fl. oz. Coca-Cola beverage and you will find a Code on the cup. After you have obtained a Code, visit www.krystal.com/85 and follow the links and instructions to complete and submit the registration form. Then, follow the links and instructions to enter your Code.
Once your Code is validated, you will automatically advance to the Instant Win Game page where you will receive 1 Instant Win Game play. You will be instantly notified if you are a potential winner of one of the Instant Win Game prizes.
You may use up to 20 Codes and receive up to 20 Instant Win Game plays total per person during the Promotion Period.
How Sweepstakes Winners Are Chosen

There will be 91 random, computer-generated winning times during the Promotion Period, 1 for each of the Instant Win Prizes listed below. There will be one insurance-backed, odds-based Grand Prize that may be awarded during the Instant Win Game.
What Are The Sweepstakes Prizes
GRAND PRIZE: $1,000,000 fulfilled as a 10-year annuity which pays out $100,000 per year for 10 years, without interest, or a lump sum cash payout of $850,000.
FIRST PRIZE: A Universal Orlando Resort Vacation Package for winner and up to three (3) guests.
SECOND PRIZE: A mini refrigerator.
THIRD PRIZE: A branded tailgating grill.
FOURTH PRIZE: A $500 Krystal gift card.
FIFTH PRIZE: A limited-edition Krystal salt and pepper shaker set.
Total ARV of All Prizes Combined is up to $856,177.
Who Are The Winners
For a list of major prize winners, visit http://bit.ly/2u25wa9. The winner list will be posted after winner confirmation is complete.
Tags: Krystal Sweepstakes 2017
Leave a Comment