In the Heart of the Sea Movie: The Chase Begins Sweepstakes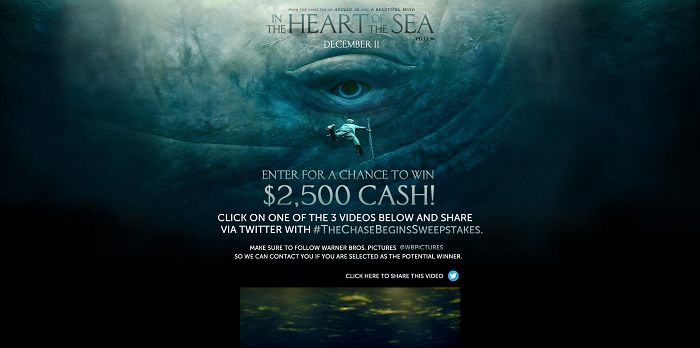 This Friday, the "In the Heart of the Sea" movie will hit theaters. To promote this epic adventure movie based on the incredible true story that inspired Moby Dick, Warner Bros. is inviting you to enter The Chase Begins Sweepstakes for your chance to win $2,500 cash!
Watch And Share To Win
From now through December 17th, watch one of the three promotional videos and share it via Twitter with the hashtag #TheChaseBeginsSweepstakes. Be sure to follow and tag @WBPictures to be entered into the Sweepstakes.
Not sure how to do it? Here's an example below:
Watch & RT for a chance to WIN $2500. #InTheHeartOfTheSea #TheChaseBeginsSweepstakes Rules: https://t.co/hmBjKkZ5xz https://t.co/xTLVjVcaWu

— Warner Bros Pictures (@wbpictures) December 4, 2015
You may participate only once between 10:00 a.m. PT on Friday, December 4, 2015 and 11:59 p.m. PT on Thursday, December 17, 2015.
The Chase Begins Sweepstakes is open only to persons who are legal residents of the 50 United States or the District of Columbia, who are 18 years of age (or the age of majority in the jurisdiction of their residence, whichever is older) at the time of entry.
More About In the Heart of the Sea
In the winter of 1820, the New England whaling ship Essex was assaulted by something no one could believe: a whale of mammoth size and will, and an almost human sense of vengeance. The real-life maritime disaster would inspire Herman Melville's Moby-Dick. But that told only half the story.
"In the Heart of the Sea" reveals the encounter's harrowing aftermath, as the ship's surviving crew is pushed to their limits and forced to do the unthinkable to stay alive. Braving storms, starvation, panic and despair, the men will call into question their deepest beliefs, from the value of their lives to the morality of their trade, as their captain searches for direction on the open sea and his first mate still seeks to bring the great whale down.
From the director of Apollo 13 and A Beautiful Mind, Ron Howard. Starring Chris Hemsworth, Benjamin Walker, Cillian Murphy, Ben Whishaw, Tom Holland, Brendan Gleeson, and Jordi Mollà.
Tags: #TheChaseBeginsSweepstakes
Leave a Comment