Chester's Pumpkinator Promotion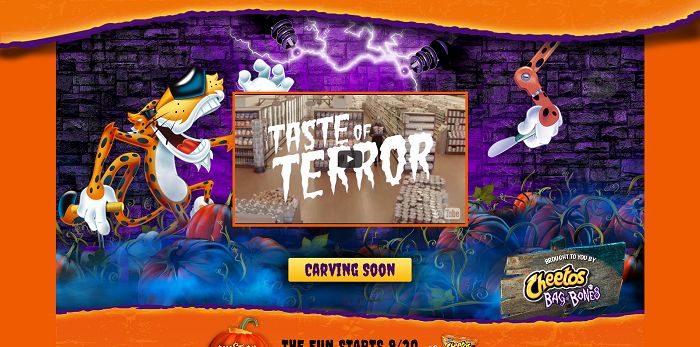 This Halloween, Chester Cheetah is inviting pumpkin carvers to use his Pumpkinator, an online pumpkin-creator tool, to design a digital pumpkin and be automatically entered into the Chester's Pumpkinator Promotion for a chance to win a weekly $1,000 cash prizes! Plus, play the instant win game and you could win 1 of 210 $10 prepaid debit cards!
Frito-Lay will be giving away over $8,000 in cash and debit cards in this Promotion so get ready for September 20th!
Design A Pumpkin To Win
During the Promotion Period, visit pumpkinator.cheetos.com and follow the instructions to create a digital pumpkin using Chester's Pumpkinator. Every pumpkin that you create and post to the online gallery will result in one (1) entry into the applicable Weekly Entry Period.
Editor's Advice: Earn up to ten (10) additional entries into the applicable Weekly Entry Period by sharing your pumpkin(s) via Facebook, Pinterest or Twitter with #CheetosHalloweenEntry.
You'll also get the opportunity to play the instant win game to see if you're an instant winner. If you want to play the instant win game again, you'll need a Bag Code, which can be found on next to the "Guaranteed Fresh" statement on the front of the CHEETOS brand product package. You may also request a free Bag Code by calling toll free 1-800-641-8963. No more than ten (1) Game Plays per day over the course of the Promotion Period.
The Promotion, running from 12:00:00 p.m. CT on September 20, 2015 to 11:59:59 a.m. CT on October 31, 2015, consists of 6 Weekly Entry Periods, as detailed below:
Weekly Entry Period #1: From September 20 to September 26;
Weekly Entry Period #2: From September 27 to October 3;
Weekly Entry Period #3: From October 4 to October 10;
Weekly Entry Period #4: From October 11 to October 17;
Weekly Entry Period #5: From October 18 to October 24;
Weekly Entry Period #6: From October 25 to October 31.
A total of six (6) Grand Prizes, one (1) per week, are available to be won each consisting of $1,000 cash, awarded in the form of a check. Plus, two hundred ten (210) Instant Win Prizes, five (5) per day, will be randomly awarded during the Promotion Period, each consisting of a $10 prepaid debit card.
The Chester's Pumpkinator Promotion is open only to legal residents of any of the 50 United States, the District of Columbia or Puerto Rico, who are 18 years of age or older at the time of participation.
Tags: Halloween Sweepstakes, pumpkinator.cheetos.com
Leave a Comment