Bags2Riches.com – Bags2Riches 2017 Game
The Bags2Riches 2017 Game consists of an instant win game, an online sweepstakes at Bags2Riches.com and a collect to win game.
The Promotion will run from January 15, 2017 through March 15, 2017 and is open to Price Chopper shoppers who are legal residents of the states of Connecticut, Massachusetts, New Hampshire, New Jersey, New York, Pennsylvania, Rhode Island, and Vermont.
And this year, you could win the Biggest Prize Ever, $1,000,000 CASH! Visit a participating Price Chopper, Market32 or Market Bistro location and receive a Bags2Riches game ticket with every $25 spent on your AdvantEdge card.
Bags2Riches 2017 Game Tickets
In order to play the Bags2Riches Game, you must obtain game tickets by making purchases of at least $25.00 using your AdvantEdge Card at any participating Price Chopper, Market 32 or Market Bistro supermarket.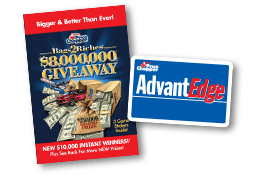 Free game tickets can also be obtained by mail. To request your free game tickets, send a 3″ x 5″ card or piece of paper containing your first name, last name, AdvantEdge Card number, complete mailing address, phone number and email address in a self-addressed, stamped envelope to "Price Chopper Bags2Riches No Purchase Tickets", PO Box 783, Tonawanda NY, 14151-0783.
Regardless of method used to obtain game tickets, you may not receive more than twelve game tickets per day throughout the Promotion Period.
Instant Win Game
The Instant Win Game is the easiest way to win the Bags2Riches 2017 Game. Once you carefully opened your game tickets, you'll might find the message "You Win" or "Save $1.00 off". This means you instantly win either a prize ranging from $0.89 to $10,000 in value or a discount of $1.00 off your next purchase at Price Chopper.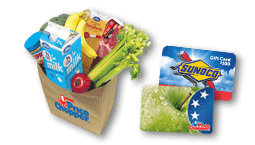 Prizes includes a large selection of free food and products from the Bakery or Prepared Food Departments. It also includes bigger prizes like $10,000 cash, groceries for a year, gas for a year, and $1,000 cash.
If you have an instant win game piece in hands, you can redeem your prize or discount by presenting it to a cashier in-store.
Online Sweepstakes At Bags2Riches.com
Your game tickets may also reveal a PIN code. Register for the online sweepstakes at bags2riches.com during the Promotion Period and enter your PIN code as instructed to receive one entry into the Sweepstakes. Each PIN can only be entered once but you can enter up to twenty-five PIN codes per day, for a maximum of twenty-five total entries per day throughout the Promotion Period.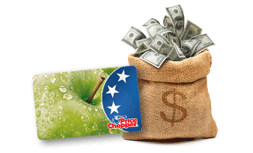 If your code is an Instant Win PIN, you will receive either A $50 Grocery Gift Card or a Redbox for a year prize instantly. If not, your code will be entered into the Drawing for a chance to win weekly prizes of gas for a year or the grand prize of $10,000 in cash.
Collect To Win
Finally, all game tickets contain three "Collect To Win" stickers that can be affixed to the matching images on the Collector Card. Complete any of the seven categories on the Collector Card to win the prize associated with the category.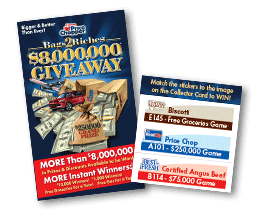 AdvantEdge Card stickers: Must collect all twelve stickers numbered A101, A102, A103, A104, A105, A106, A107, A108, A109, A110, A111 and A112 to win $250,000.
Best in Fresh stickers: Must collect all ten (10) collect stickers numbered B113, B114, B115, B116, B117, B118, B119, B120, B121 and B122 to win $75,000.
Community stickers: Must collect all nine (9) collect stickers numbered C123, C124, C125, C126, C127, C128, C129, C130 and C131 to win a 2016 Ford Escape Titanium.
Price Chopper stickers: Must collect all eight (8) collect stickers numbered D132, D133, D134, D135, D136, D137, D138 and D139 to win a $20,000.00 Shopping Spree.
Central Market Classics stickers: Must collect all eight (8) collect stickers numbered E140, E141, E142, E143, E144, E145, E146 and E147 to win groceries for a year.
Fuel AdvantEdge stickers: Must collect all eight (8) collect stickers numbered F148, F149, F150, F151, F152, F153, F154 and F155 to win gas for a year.
Stay Connected stickers: Must collect all six (6) collect stickers numbered G156, G157, G158, G159, G160 and G161 to win a $500 Amazon Gift Card.
Collector Cards are available for free at any participating location, or  can be downloaded to print at home.
To claim a Collect to Win prize,affix winning stickers on a new Collector Card and hand write your initials on the face of each stickers. Send your winning Collector Card via mail, in a postage paid envelope along with your first name, complete address, telephone number, and email address to: Price Chopper Bags2Riches, 600 Main Street, #300, Tonawanda, NY 14151-0888.
Be like Sarah B. who was the 2015 Bags2Riches $250,000 Grand Prize winner, and start playing today for your chance to win.
Tags: Bags2Riches 2017 Game, Bags2Riches.com, Price Chopper Sweepstakes, Sweepstakes Expiring March 2017
Leave a Comment
SweepstakesLovers Newsletter
So many Online Sweepstakes to enter! Keep up with the SweepstakesLovers daily email.
Subscribe to our free newsletter.