AARP's Are You a Techie Giveaway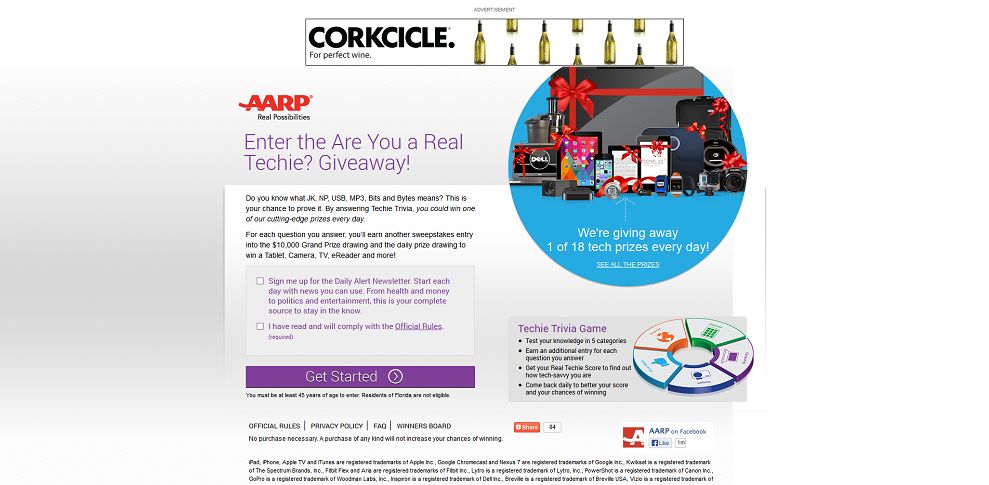 Eligibility : Open only to legal residents of the fifty (50) United States and the District of Columbia (excluding Florida) who are at least forty-five (45) years old and who have an AARP account at the time of entry.
Promotion Period : Begins on November 1, 2013 at 12:00 a.m. Eastern Time ("ET") and ends on December 31, 2013 at 11:59 p.m. ET (the "Promotion Period")
Enter At : sweeps.aarp.org/techiegiveaway
Limit : Each entrant may receive up to twenty-five (25) Sweepstakes entries for completing the trivia game per day during the Promotion Period.
Prize (s) :
SIXTY-TWO (62) DAILY PRIZES (one (1) per Daily Entry Period): There will be sixty-two (62) daily prizes awarded. The daily prizes are listed in order below:
| | |
| --- | --- |
| Prize | ARV |
| A GoPro HERO3: Black Edition | $400 |
| A Google Chromecast Streaming Media Player | $35 |
| A Kwikset Kevo 925 Bluetooth Enabled Deadbolt for iPhone 4S and 5 | $219 |
| A Fitbit Wireless activity + Sleep Tracker PLUS Aria Wi-Fi Smart Scale | $250 |
| A Lytro Light Field Camera | $300 |
| A Canon PowerShot Digital Camera | $300 |
| A Trackdot (awarded as a gift voucher) and a 5-piece Luggage Set | $321.97 |
| An Apple TV and a $250 iTunes gift card | $350 |
| A Dell Inspiron Laptop | $430 |
| An iPad | $500 |
| A Breville Juice Fountain Duo Dual Disc Juicer | $500 |
| A VIZIO LED Smart HDTV | $500 |
| An iRobot Roomba 770 | $500 |
| A Amazon Kindle Paperwhite | $139 |
| A Google Nexus 7 | $229 |
| A Pebble Watch | $150 |
| A Samsung Gear Watch | $299 |
| A $199 Apple Store gift card to be used to purchase an iPhone | $199 |
| A GoPro HERO3: Black Edition | $400 |
| A Google Chromecast Streaming Media Player | $35 |
| A Kwikset Kevo 925 Bluetooth Enabled Deadbolt for iPhone 4S and 6 | $219 |
| A Fitbit Wireless activity + Sleep Tracker PLUS Aria Wi-Fi Smart Scale | $250 |
| A Lytro Light Field Camera | $300 |
| A Canon PowerShot Digital Camera | $300 |
| A Trackdot (awarded as a gift voucher) and a 5-piece luggage set | $321.97 |
| A Apple TV and a $250 iTunes gift card | $350 |
| A Dell Inspiron Laptop | $430 |
| An iPad | $500 |
| A Breville Juice Fountain Duo Dual Disc Juicer | $500 |
| A VIZIO LED Smart HDTV | $500 |
| A iRobot Roomba 770 | $500 |
| An Amazon Kindle Paperwhite | $139 |
| A Google Nexus 7 | $229 |
| A Pebble Watch | $150 |
| A Samsung Gear Watch | $299 |
| A $199 Apple Store gift card to be used to purchase an iPhone | $199 |
| A GoPro HERO3: Black Edition | $400 |
| A Google Chromecast Streaming Media Player | $35 |
| A Kwikset Kevo 925 Bluetooth Enabled Deadbolt for iPhone 4S and 7 | $219 |
| A Fitbit Wireless activity + Sleep Tracker PLUS Aria Wi-Fi Smart Scale | $250 |
| A Lytro Light Field Camera | $300 |
| A Canon PowerShot Digital Camera | $300 |
| A Trackdot (awarded as a gift voucher) and a 5-piece luggage set | $321.97 |
| An Apple TV and a $250 iTunes gift card | $350 |
| A Dell Inspiron Laptop | $430 |
| An iPad | $500 |
| A Breville Juice Fountain Duo Dual Disc Juicer | $500 |
| A VIZIO LED Smart HDTV | $500 |
| An iRobot Roomba 770 | $500 |
| A Amazon Kindle Paperwhite | $139 |
| A Google Nexus 7 | $229 |
| A Pebble Watch | $150 |
| A Samsung Gear Watch | $299 |
| A $199 Apple Store gift card to be used to purchase an iPhone | $199 |
| A GoPro HERO3: Black Edition | $400 |
| A Google Chromecast Streaming Media Player | $35 |
| An Amazon Kindle Paperwhite | $139 |
| A Google Nexus 7 | $229 |
| A Pebble Watch | $150 |
| A Samsung Gear Watch | $299 |
| A $199 Apple Store gift card to be used to purchase an iPhone | $199 |
| Grand Prize: $10,000 cash | $10,000 |
Tags: AARP's Are You a Techie Giveaway
Comments (1 Message)
Leave a Comment