Orange County Choppers Online Chopper Giveaway Sweepstakes
Win a 10th Anniversary Bicycle Autographed by the OCC in the Orange County Choppers Online Chopper Giveaway Sweepstakes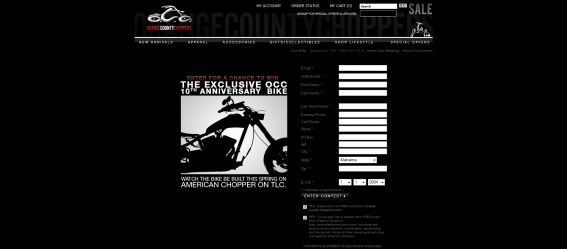 Eligibility : The Orange County Choppers Online Chopper Giveaway Sweepstakes is open to individuals who are at least 18 years of age and who are legal residents and currently residing in any one of the fifty (50) states of the United States of America or the District of Columbia (excluding, without limitation, overseas military installations, Puerto Rico or other United States of America territories).
Promotion Period : The Orange County Choppers Online Chopper Giveaway Sweepstakes entry period begins on Wednesday March 11th, 2009 at 12:01:00 a.m. Eastern Standard Time ("EST") and ends on 11:59:59 p.m. on August, 11th 2009 (together, the "entry period").
How To Enter : You may also enter without making any purchase by simply registering online at www.orangecountychoppers.com/sweepstakes and providing the requested information.
Limit :  You may enter the Orange County Choppers Online Chopper Giveaway Sweepstakes up to, but no more than, the lesser of twenty (20) times during each calendar month of the Sweepstakes entry period or one hundred-twenty (120) times total during the Sweepstakes entry period.
Prize (s):
One (1) Grand Prize will be awarded. The Grand Prize consists of one (1) 10th Anniversary Bicycle Autographed by the OCC valued at a total of $40,000.
Winners :
After the Prize is conclusively awarded, and continuing until September 10th, 2009, you may obtain the winner's name by visiting the Orange County Chopper's web site at http://www.orangecountychoppers.com/sweepstakes/winner.php.
Comments (1 Message)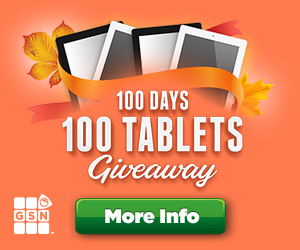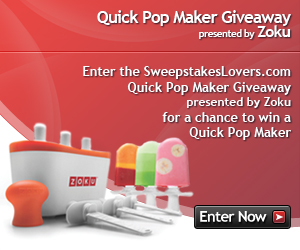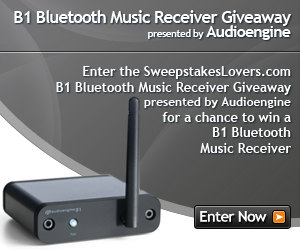 SweepstakesLovers Newsletter

Subscribe to our free daily newsletter and never miss a new sweepstakes !